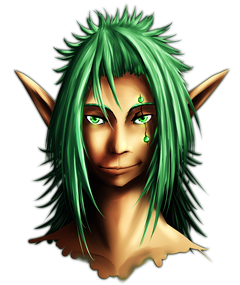 Name: Leon Sylph
Demon (Sylincar)
Partner: Tsuyu Yoruno, previously Stan
Element: Wind
Age: 121
Birthday: 12th April, 1894
Area of Origin: Greece
Reference: Reference
Leon Sylph is a bonded wind demon who is currently a DEVIL research subject. He was formerly recruited to the DAMMED program and was previously bonded to Stan.
He is is bonded to Tsuyu Yoruno.
Personality
Leon is an extremely cheerful fellow who is rarely encountered being sad or depressed. The demon enjoy being around happy people in general and therefore often tries to perk up his friends if he believes them to be upset in any way. His good moods often originate from his ability to simply ignore negative aspects of his situations completely, leaving him appear naive and stupid to many people. In general he acts childish. However, Leon is not entirely dumb, he just doesn't think his actions through entirely. Especially consequences are left out by his thinking process. He has a hard time finding solutions to problems if his first ideas do not work out. Leon prefers simple logics and therefore devaluates everything that he doesn't understand entirely as "too complicated". Anything in relation to science is often called that by him.
In general it is not hard to form a friendship with Leon and to gain his trust as he rarely suspects people around him to intending bad.
Background
Dynamite
Pre-bond
Bombs
Post-bond
firecrackers
Year 1
collateral damage
Year 2
gasoline on wildfire
Year 3
tornado in a bottle Ragnarok
Active
Passive
Physiology
Demon Form
Human Form
Relationships
Friends
Allies
Acquaintances
Not Friends
Trivia