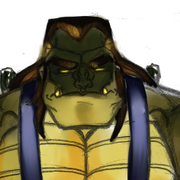 Name: Cletus
Demon ('Lectric Gator)
Partner: Buck Bailey
Element: 'Lectric
Age:
Birthday:
Area of Origin:
Reference: Photobucket
Cletus was a bonded electric demon, former member of the island Council, and DEVIL research subject. He was bonded to Buck Bailey, but was experimentally rebonded to a new human and separated from the other bonded research subjects for individual study.
He died when his new partner was poisoned by another demon's blood. Facility 66's investigation into the matter is still ongoing.
No longer available for RP purposes.
Personality
Background
Active
Passive
Physiology
Demon Form
Human Form
Relationships
Friends
Allies
Acquaintances
Not Friends
Trivia